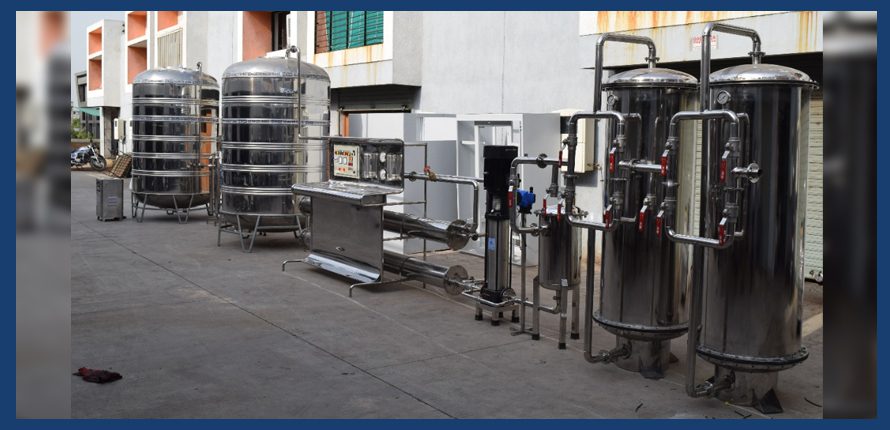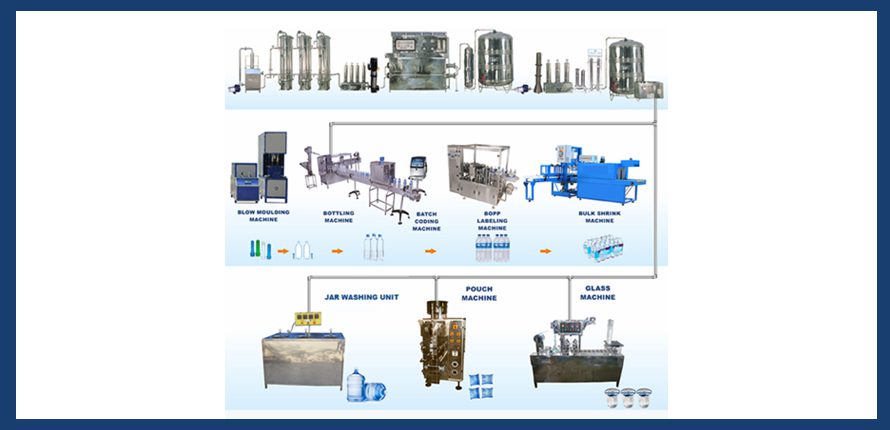 Drinking Water Plant
Installation of package drinking water plant becomes a painless process when you hire an expert to handle its operations. These efficient water plants turn raw water into healthy drinking water, safe for consumption. Made with tough tensile quality materials they're long-lasting and easy to maintain. These plants produce quality packaged drinking water for businesses that deal with filtering and producing packaged water bottles.
New technology with specifications in the water treatment and purification industry is widely adopted to match the quality standards. To establish a package drinking water plant, the manufacturers must set up the processing units. Also, they must obtain the ISI mark from the Bureau of India Standards.
Professionals in the industry follow certain aspects of structuring, manufacturing, and installing water plant units. These factors include:
Offering machines with updated technical specifications.
Implementing new technology in Machinery installation to make the process smooth and easier.
Frame structural plans
Get mandatory approvals and follow Government rules and regulations.
Determine the packaged drinking water plant cost
Arrange for supreme quality maintenance service
Complete approval procedures and legal documents.
High-productivity standards.
Mineral Water Plant Process:
Hypo Chlorite Dosing System
The process starts with water tanks being filled with raw water for chlorination. They're chlorinated with an HDPE hypochlorite solution using dosing pumps. It removes living micro-organisms and stored in tanks having PVC pipes and level indicator.
Sand Filtration:
The water is passed with pressure to the sand filter unit. This unit separates turbid particles. Raw water, when released, is passed in a downward direction through the sand bed. It entraps suspended particles. However, these sand bed needs regular maintenance
Activated Carbon Filtration:
The raw water after chlorination can have an odor, color, or minute particles. There are large activated carbon tanks to remove them. When water is passed through these carbon tanks, they're filtered and ready for the next step.
Anti Scalent Dosing:
Elements like salts, calcium, and magnesium present in extra quantity needs to be precipitated. If they exceed the solubility limit, it's a danger to the water nutrient level.
The Reverse Osmosis System:
The water is treated with the RO system rejects the dissolved solids from the water. It's a system where the high concentrated water is passed through a semi-permeable membrane that has micro filters.
Adding Mineral System:
The RO treated water having less TDS is not good in taste. At this step physical minerals are added in the tank to give them taste and a nutrient level. It also manages the TDS level in the water.
UV Filteration:
The RO water is free from impurities but it may redevelop again during prolonged storage. Hence, an ultraviolet sterilizer radiating high ultra-violet rays filters remove the minutest probability of redeveloping any microorganism.
Ozone Generator:
To maintain good quality standards in the mineral water is necessary. Therefore the water is passed through Ozone tanks before bottling. This process adds rich oxygen to purified water.
The oxygenated water is ready for bottle filling through pumps and pipes attached to the bottling unit.
Leading Packaged Drinking Water Plant Manufacturer
At Aquashakti Water Solution, our water plant professionals are experts in installing and maintaining these water plants. We are the leading packaged drinking water plant manufacturer using innovative technology to stand out in the competition. Our packaged drinking water plants and our installation services have been recognized as the best by our clients. We provide your water packaging and bottling business, a new technical dimension in a cost-effective quote.
As we have a large number of clients in the domain of packaged drinking water plant, we guarantee that they get a longer functional life, unmatched performance levels, minimum maintenance and easy operating facility with the plants. The best quality of raw materials and latest technology go hand in hand in manufacturing the mineral water plants.
Specification
The specifications of packaged drinking water plants differ depending on their bottling capacity. The common specifications would include:
Pressure sand filter
RO module Kit
Water storage tank
Capacity: 500 LPH to 50000 LPH
Activated carbon filter
UV system
Raw Water Pump
Anti scalent pump
Ozone circulation pump
Voltage: 110-440V
Features
Our professionals with vast industrial experience and expertise are involved in offering a high-quality range of packaged drinking water treatment plant. We proffer the entire architectural plan of installing the machine, repair and maintenance service, efficient productivity with the latest technical specifications.
A proper plan of architecture.
Convenient maintenance and repair solutions.
Great reduction in pollution standards and great stress on productivity control.
Capacity: 500 LPH to 50000 LPH
Implementation of energy preservation procedures.
Implementation of the latest technologies in the packaged drinking water plants.
We also assist you in legal procedures and follow the government regulations for the process to go smoothly. Our experts are just a call away for repair and maintenance services.
Frequently Asked Questions
Is the package drinking water safe to consume? Is the Plastic bottle harmful?
Yes! They are safe for domestic consumption. The plastic bottles are made with Polyethylene Terephthalate (PET). They're safe.
How much water is used to produce a bottle of packaged drinking water?
1.39 liters of water are used to produce a liter of the water bottle.
Can a soft drink unit and packaged drinking water unit run from the same premises?
NO! Both of them have different business regulations.
Is Plastic bottle reusable?
No! These bottles are for single use only.
Aquashakti Provide The Best Service For Sustainable Progress
Aquashakti Are A Industry & Manufacturing Services Provider Institutions. Suitable For Factory, Manufacturing, Industry, Engineering, Construction And Any Related Industry Care Field.
Get Every Updates!
Aquashakti Are A Industry & Manufacturing Services Provider Institutions. Suitable For Factory, Manufacturing, Industry, Engineering, Construction And Any Related Industry Care Field.
---
Do You Have Any Questions!